Designing a new kitchen can be overwhelming. There are more choices available today in cabinets, flooring, appliances, and style than ever before. When deciding where to begin the process, look to the kitchen counter for ideas.
How the Counter Drives Design
Whether designing a modern kitchen or a traditional one, the kitchen counter is the most important decision to make. Since the design of the space should flow smoothly, with no jarring contrasts or too many elements, which can confuse the eye the ideal place to start is with the counter.
If looking into granite counters, consider the types available. There are granites with large veins of color, lots of pattern and movement, and there are granites with tight patterns, flecked with color. A counter with a great deal of movement to its demands to be the showpiece of the kitchen. It works better with cleaner cabinet doors, such as slab or shaker style, and simple backsplashes, such as a solid-colored subway tile.
Granite with a tight pattern to it will help to support a more traditional cabinet door style, as well as more decorative backsplashes. It will help to support the other design elements of the kitchen, lending a pallet to choose from for colors, rather than standing on its own.
Deciding What Material to Use
There are several materials available today in kitchen counters. Granite counters, soapstone, Corian, concrete counters, and Silestone are just a few of the options. When deciding what type of counter to purchase, consider their use and care.
Granite counters lend natural style and a built-in color pallet to the kitchen. They work well in modern, traditional, or transitional designs. They do, like any natural stone, however, requires care. They will need to be sealed on a regular basis, as well as washed with a stone cleaner or a mild detergent.
Soapstone counters offer a different type of natural beauty than granite, with their soft finish and subtle veining. They also work well in a variety of kitchens but require their own special care. They can scratch, and need to be oiled on a regular basis to bring out the color and richness of the material.
Corian counters are a solid surface option which offers a solid color, or a gently flecked one. They work best in transitional kitchens and have the added benefit of being bacteria resistant. They can scratch and burn, however, and may need to be periodically refinished to keep them looking nice.
Concrete counters are a fairly popular option for modern kitchens. They offer little in the way of color or movement and are therefore a nice backdrop to bright cabinets or backsplashes.
Silestone or Ceaserstone counters are quartz counters held together with a resin. They are the lowest maintenance counters available, as they require no sealing and do not scratch or burn. Their patterns tend to be rather uniform, but they are available in honed or polished finishes, making them slightly more versatile than Corian or Concrete counters are.
Proceeding with The Kitchen Design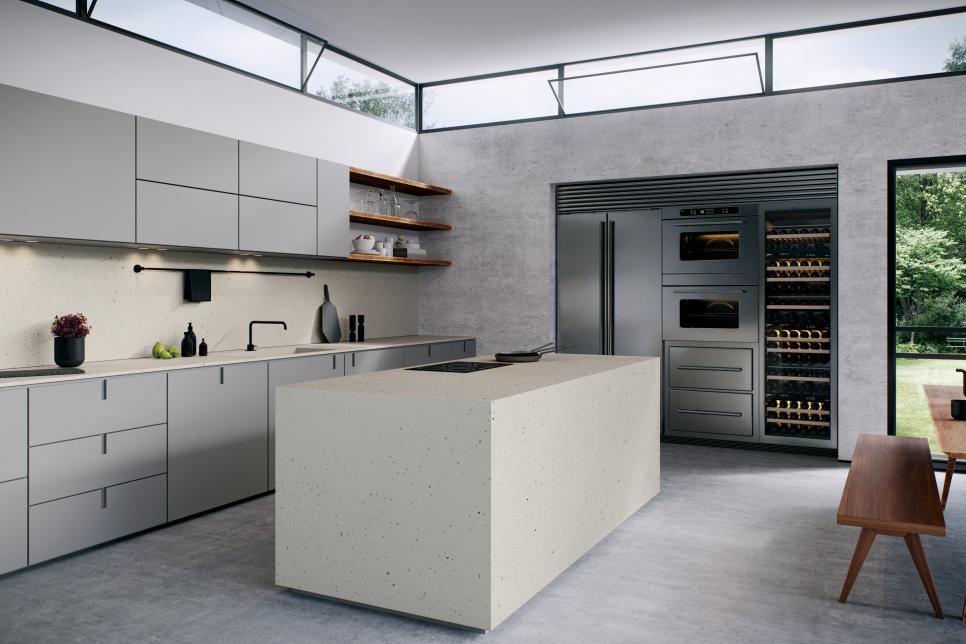 Once the type of counter has been selected, visit the stone yards, or counter the showroom and get a sample of the exact material being used. If choosing a natural material such as granite, be sure to pick the slab and ask for a sample from that piece. This will be important for making the rest of the kitchen design decisions.
Once the sample is in hand, use it to begin the selection of the color pallet for the rest of the kitchen. If using a material that has swirls or flecks of color in it, try to find materials that either pick up or complement these colors. Really studying the material may result in some surprising results. Uba Tuba granite, for example, is viewed as a dark black or greenstone. Looked at closely, however, it has lots of gold and even turquoise running through it. Since it's a tightly patterned stone, it would work well with a traditional cabinet, as well as a golden-hued floor and a backsplash with tones of green, yellow and turquoise running through it.
Whatever the type of kitchen counter selected, be sure to follow where it leads in the rest of the kitchen design. Building the design around one component will help to ensure that the entire space looks pulled together and complete.